The GOWDY Family
in Ohio
---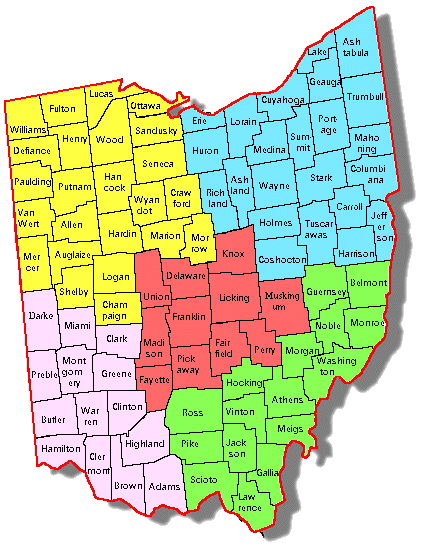 William Goudy - submitted Lois Goudy Holler
William Goudy was born 1782, married Cassandra Crawford in 1809 in Jeffersonville, Ohio. William Goudy was a member of Sugarcreek near Dalton, Ohio Presbyterian church in 1816. William had several chldren with the usual Goudy Christian names of Thomas, James, John, William and more. William Goudy died in Jeromesville, Ohio in 1846. The mill he built there is gone but still referred to as the "old Goudy mill".
---
Frank Goudy - submitted byWellington Cook Goudy, Jr.
Frank Goudy was married to a woman with the maiden name of Deardorff. They had a son Wellington Cook Goudy, born November 8 in New Philadelphia, Ohio. Wellington Cook Goudy married a woman with the maiden name of Peral (born April 5, 1900, Cambridge, Ohio). Wellington Cook Goudy had a son Wellington Cook Goudy, Jr. Wellington's children are Ronald Crown Goudy and Diana Lynn Goudy.
---
Jackson B. Goudy - submitted by Kaye Laxson Hall
Jackson B. Goudy was born 1826 in WV or VA and moved to Noble County, Ohio, married Eliza Patterson. They had children; I know of two girls Maria J. and Mary Elizabeth (b 10/24/1852). Mary Elizabeth Goudy married J.B. Wagner then lived in Iowa, Missouri and finally south Texas.
---
WILLIAM GOWDY IS NOW A SOLDIER - (submitted by Debs107@juno.com) Reprinted from the Xenia Daily Gazette, Thursday, December 13, 1917, Xenia, Ohio, Greene county.
William Gowdy, son of Attorney and Mrs. R.L. Gowdy, is enlisted in the one hundred and sixty third Field Artillery at Cincinnati yesterday, and passed the physical examination last night at Ft. Thomas, Ky. His parents have heard nothing personally from him since, and are expecting further word today. They do not know whether he will be given opportunity to come home before being sent to join his regiment.
Mr. Gowdy is an Ohio State University man in the agricultural department, and has been manager of the J.D. Steele farms for the last year.
---
MRS. MILLER, AGED 85 ONE OF THE OLD RESIDENTS OF XENIA AT REST - (submitted by Debs107@juno.com) Reprinted from the Xenia Daily Gazette, Monday Evening, December 16, 1901, Xenia, Ohio, Greene County
Mrs. Eliza R. Miller, one of Xenia's old residents passed to her final reward this morning. She died at her home on East Third Street about 5:30 o'clock. For a year past she had been in declining health and recently her health had failed rapidly, and she had been confined to her bed for the past 5 weeks. Despite her lessening strength and knowledge that it would not be very long until she would be called to her long home, she maintained the same cheerful sunny dispositions that characterized her entire long life, and to her friends she often made the statement that she was prepared and ready to go. Up to the very last her mind remained undimmed, and she retained her mental faculties in a remarkable manner.
The maiden name of the deceased was Eliza Gowdy. She was born near Bellbrook and would have been 85 years of age, February 18, next. Her first husband was Lewis Rogers, and of this union, there were three surviving children as follows: Mrs. J.M. Milburn, of this city, Mrs. Eli Dean, who resides near Corwin, and Mr. Wm. Rogers, a traveling salesman whose home is in Xenia. Another daughter, Mrs. Wm. Martin, died at Delphi, Indiana six years ago. The deceased was married a second time to Jacob Miller of Cedarville, who passed away about 15 years ago.
Mrs. Miller had been a life long resident of Xenia with the exception of 13 years spent in Cedarville, and a few years at Waynesville. She began housekeeping in the house on East Main Street when first married, nearly 70 years ago, and spent almost her entire life there. She is the last one of her family, a brother, Mr. Alex Gowdy, having passed away last Spring. She was an Aunt of Hon. John K. Gowdy now serving as a U.S. Consul General in Paris; Warren Rogers, a grandson, employed as a clerk at the Xenia post office, made his home with Mrs. Miller. She had for many years been a member of the first U.P. Church.
The funeral services will be held on Wednesday at 2 p.m.
---
GONE TO REST - (submitted by Debs107@juno.com) Reprinted from the The Bellbrook Moon, Wednesday, October 31, 1894, Bellbrook, Ohio, Sugarcreek Township
Robert Gowdy, who resided near Xenia on the upper Bellbrook Pike, died of paralysis Tuesday of last week. He was born in Xenia in 1818, and has lived there for 76 years. He leaves 5 children, 4 sons and 1 daughter. Robert L., a young attorney of Xenia, Rev. Geo E., of Eaton, O.W.F. of Pleasant Ridge, and Charles, at home, and Mrs. R.D. Williamson. His home was beautiful and attractive, and his farm being of the rich cherry bottoms, and showed it was managed by a wise husband man.
---
Katherine (Gillett) Hyde Gowdy - submitted by Carol (Hyde) Morgan
Katherine (Gillett) Hyde Gowdy was born in Wayne (Ashtabula County), Ohio on March 26, 1902. She died in Geneva (Ashtabula County), Ohio on January 30, 1994. Carol (Hyde) Morgan is the granddaughter of Katherine Gowdy.
---
Christiana Goudy - submitted by Gail MacCabe
James and Mary Cook Goudy had a daughter Christiana Goudy (born abt. March 1806) Sugarcreek Twp., Wayne Co., Ohio. Christiana was the oldest daughter of James and Mary Cook. Christiana married Thomas McClelland July 1, 1823 in Wayne County, Ohio. Christiana is buried next to her mother in Dalton Cemetery, Sugarcreek Twp., Wayne Co., Ohio. Christiana and Thomas and Christiana's parents attended the Dalton Presybeterian Church. Christiana died September 3, 1846 at age 40. Her brother Sylvanus Goudy married Thomas McClelland's sister, Eleanore McClelland. They are also buried in Dalton Cemetery.
---
Descendants of Michael Ryan - submitted by Nancy and Tom Kelly
---
Hotlinks | Guestbook | Home| Coat Of Arms | Discussion Board
vernon@gowdy.org