The GOWDY Family
in Maryland
---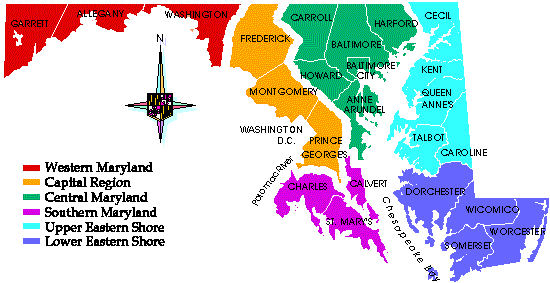 Map image used with permission from the Maryland Office of Tourism Development.

John Gouty - submitted by Everett Goudy
John Gouty was born 1800 in Dorcester County, Maryland; married Margaret Earhart (born 1802?). John Gouty had a son named William Henry Goudy, born 1840 in Covington, Indiana. Henry married Mary Ann Bailey (born in 1848; either Indiana or Illinois) in 1872. They had a son William Edward Goudy, born November 4, 1879 in Covington, Indiana. William married Katherine Cornelid Lewman (born Dec. 30, 1885 in Lincoln County, Kansas) in 1907. They had a son Everett Goudy, born March 30, 1919. Everett Goudy claims his ggrandfather was Richard Gouty born 1766 Dorcester County, Maryland and his gggrandfather John Gouty, Dorcester County. Everett Goudy claims his first ancestor in America was John Gautier from England to Maryland in 1671.
---
Hotlinks | Guestbook | Home| Coat Of Arms | Discussion Board
vernon@gowdy.org